BURWELL MORGAN MILL HOURS
Art at the Mill: September 23rd - October 8th, 2023
Sundays-Fridays 12-5, Saturdays 10-5
(Mill will not be grinding during the art show)
Mill open: May 14th - November 19th
Fridays and Sundays 12-5
Saturdays (grinding days) 10-5
15 Tannery Lane, Millwood, Virginia 22646
540-837-1799
A National Register Historical Landmark and one of the oldest operational grist mills in the country, located in the heart of the Shenandoah Valley.
In the early 1780s, General Daniel Morgan joined efforts with Colonel Nathaniel Burwell of Carter Hall to build this water-powered mill, in an area that would become the village of Millwood. During many years as business flourished, the mill was the center of community life.
Take your own tour of the mill and step back in time. Come marvel at the unusual and immense interior water wheel. Come, see, feel, listen as the natural power of falling water turns wooden gears, huge wooden shafts, and old millstones to make flour from raw grain. A volunteer miller will explain the process of grinding wheat and corn just as it was done over 200 years ago.
Freshly ground flour, corn meal, and grits are available for sale at the mill, as well as at Locke Store and several area farm markets. Please note grits may be sold out the day of grinding – they are very popular! All our products are made from whole grains and are without preservatives, so we recommend refrigerator or freezer storage to maintain freshness once you get them home.
Visitors may also enjoy the mill's park and surrounding four acres, sitting at picnic tables in the meadow, taking photos of the waterfall, or listening to the sound of the mill race trickling through the weeping willows. Whether you are enjoying coffee and a scone from Locke Store or a heartier picnic lunch, feel free to pull up a bench or a table and enjoy the scenery.
And while you're in the area you can also experience the picturesque Clarke County and neighboring counties which feature some of Virginia's finest horse farms, the typical 18th/19th century dry stack stone fences that line the winding country roads, along with other historical sites, battlefields, and old towns. CCHA has two annual events at the mill celebrating its place in history – Colonial Kids Day in the summer and Heritage Day in the fall. Please check our events listings for this year's dates, as well as our spring and fall Art at the Mill.
Art and history meet at the Mill!
What We Grind
The Burwell-Morgan Mill grinds different grains, many from local farms. The best time to see the grinding demonstrations is between 11 am and 2 pm each Saturday.
Grinding schedule:

October 28th: Red Corn
November 4th: Blue Corn
November 11th: Rye
November 18th: Yellow Corn
Current grains in stock: Rye flour, Buckwheat flour, red cornmeal, and white cornmeal
Be sure to visit Broken Window Brewing in Winchester, VA to try their Burwell Stone Lager, which uses barley ground up on our millstones!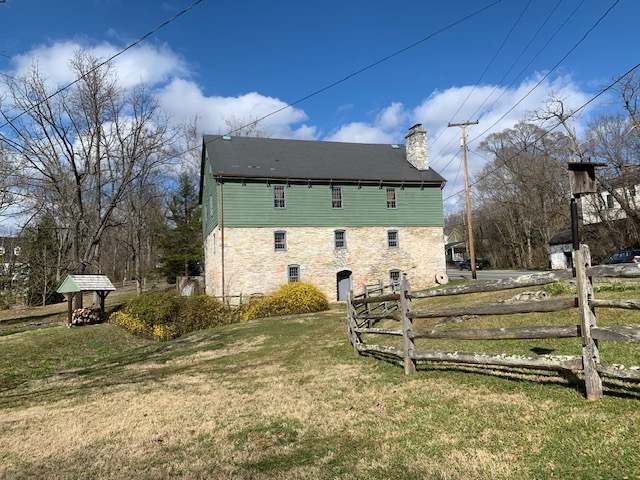 Visitor Questions and Answers
"We've been to the mill before, but we haven't seen grinding operations. When should we come?" Saturday guests who wish to observe grinding operations should time their arrival between 11:00 am and 2:00 pm local time, although grinding hours may be extended during special events.
"What are you grinding?" Typically over the grinding season, we will grind blue, red, white, and yellow cornmeal and grits, as well as 9-grain, buckwheat, rye, and whole wheat flours. We try to announce our Saturday grain choice on Facebook, so visitors know what to expect. When possible, we are pleased to source our grain from local farms!
"Is there a charge for using the meadow?" Picnics and stream walks are encouraged year-round, and visitors are welcome to leave a donation in the box near the mill race. Groups wishing to reserve space in the mill for events such as wedding receptions should contact CCHA at (540)955-2600 to schedule.
"Are there public restrooms?" The mill has restrooms located just off the parking lot, which are open during mill hours on Friday, Saturday and Sunday.
"Are you looking for volunteers?" Always! While we have a core group of dedicated volunteers, we are excited to introduce new people to the fun of being a docent and/or miller. Some of our volunteers prefer to help with seasonal grounds and building maintenance projects. Please see the Get Involved section of the website for more information.
"Are you ever open on weekdays?" Our standard hours are Friday through Sunday; school or tour groups wishing to visit mid-week should contact CCHA at (540)955-2600. Mid-week tours may not include grinding operations, depending on staff and volunteer availability and event scheduling.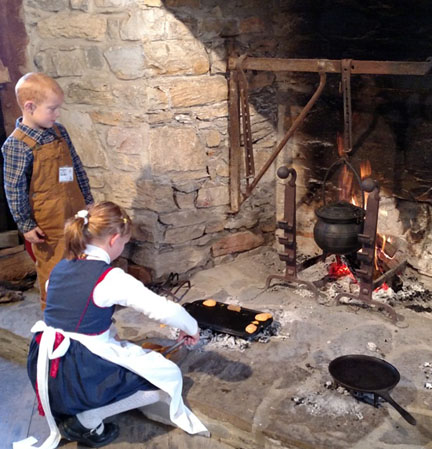 Heritage Day
November 5th | 11 a.m. | Burwell-Morgan Mill
The Slave Dwelling Project
November 11th | 11 a.m. | Burwell-Morgan Mill